Yay, I am finally starting this blog. What can I say, I procrastinate. I'm only, (looks down at watch briefly) half a year late, thats nothing... in the scheme of things. Okay, well welcome and I hope you throughly enjoy cooking with me. Look, I made cupcakes!

Cupcakes are always a nice addition to the cooking repertoire, especially if you combine two such nice ingredients as chocolate and homemade mint extract. Lets get to it:
Mint Chocolate Cupcakes
Ingredients for:
Cupcakes:
1 stick butter (1/2 lb or 8 oz)
1/2 cup cocoa
2 ounces semisweet chocolate (pure dark is fine, but add a little cream if you have it (don't add milk, it could cause the chocolate to seize))
3/4 cup flour
3/4 teaspoon baking powder
1/2 teaspoon baking soda
1/2 teaspoon salt
3/4 cup sugar
2 large eggs
1/2 cup buttermilk (Or place 1/2 cup of milk(whole-milk if you have it) with 1/2 tbsp lemon juice in bowl, mix, let sit 10 mins, now it should be a serviceable substitute for buttermilk)
1 1/2 teaspoons homemade peppermint extract (if using store bought, use half as much)
1 1/2 teaspoons vanilla extract (double for imitation)
Frosting:
1 stick butter (1/2 lb or 8 oz)
1 teaspoon vanilla extract
1/2 teaspoon homemade peppermint extract (if using store bought, use half as much, also there are some notes on usage in the recipe)
powdered sugar to taste, ~ 2 cups
A little green food coloring if you are so inclined
Preheat oven to 350° F.
Place the butter, cocoa, and chocolate into a double boiler and heat until melted, stirring to incorporate. Take off heat, remove top portion of double boiler and let cool. (If you don't have a double boiler, heat an inch of water in a saucepan and place a metal bowl in the saucepan so that it does not touch the water (you want the bowl to be larger than the pan). Place the ingredients in the bowl and heat the water until it is simmering, remove bowl from saucepan after ingredients have melted.))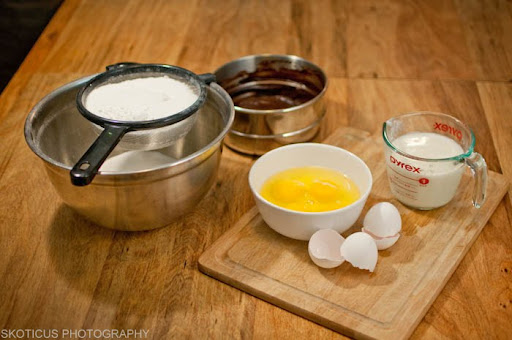 Combine the dry ingredients together in a large metal bowl, preferably by sifting them together. (This is especially helpful in removing baking soda / powder clots that sometimes show up in baked goods.) Then mix with a spoon until all the ingredients are thoroughly mixed together.
Whisk together the eggs, extracts, and buttermilk, then combine with the chocolate.
Combine the liquid ingredients with the dry using the whisk until thoroughly combined.
Pour into a cupcake tin lined with paper cupcake liners. If you don't have any cupcake liner be sure to grease the cupcake tin very well.
Bake in the oven 18-20 minutes, until a toothpick inserted into the center of a cupcake comes out clean. (If you don't have a toothpick handy you can always use a piece of spaghetti.) Let the cupcakes cool in the pan for 10 mins on a cooling rack. Then take them out and allow them to finish cooling on the rack.
While you are waiting for them to finish cooling, you can get started on the frosting. Cream the butter. Add the vanilla extract. If you are using homemade mint extract, it will still have a strong alcohol flavor which would ruin the frosting, this wasn't a problem with the cupcakes because the flavor cooks out but we have to take it into consideration when we are not cooking it out. So put the extract into a microwave safe container and microwave for ~35 seconds, or until it has lost its alcohol smell, then add it to the frosting. Then add the sugar to taste. Spread on the cupcakes when they are cool.
Enjoy!
Andrew Morris
As always, many thanks to
Skoticus
for providing excellent photography.